[tamara]
ALEXANDER WANG
Yes and No. Yes, this collection completely reflects current fashion. No, it doesn't really predict much past that. Velvet, sheened satin, capes, thigh high, dark colours. We've already seen this. However, I really loved the cropped shirts! What did we
say
? Also the hair was pretty strange - slicked back and greasy? I probably won't be trying to emulate this style anytime soon! In all seriousness though I didn't love the pin-stripe. However, the deep colour was really beautiful and the 'bondage vibe' was pretty cool (Meenal Mistry from style.com concurs). I would say that this show was a success, but that is just my naive opinion. My fellow members of thefashionspot (for which I was
just
granted membership - a very tedious application/reviewing process :D), however, disagree and were somewhat unimpressed by Wang this season.
HERVE LEDGER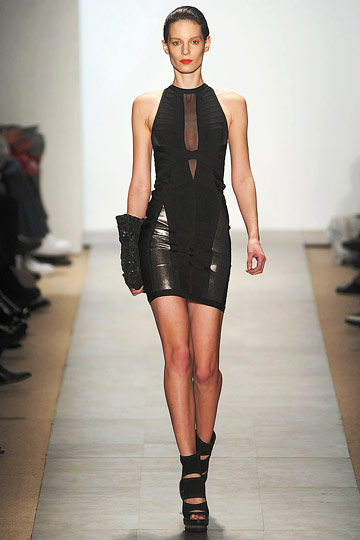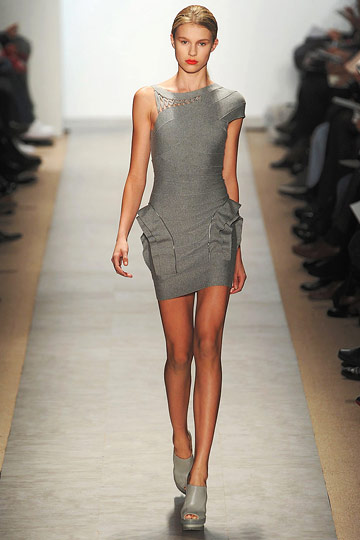 I loveeee this collection. Very simple yes, but I never have denied being a minimalist. I like simple, but different (in stark contrast to simple and casual in my eyes). Herve Ledger definitely designed pieces that are similar to last season's Gucci, but all the same I really liked these dresses, even though the bandage dress it seems is constantly being reinvented by this designer! I'm also really interested in that single arm accessory - I must find out what it is! (Just now I realized it's an oversized clutch..OK but really I like the idea of a one arm accessory, so I will find one anyway!) Two thumbs up Ledger, especially for the continuation of the pastel and tones of gray trend.
MARC JACOBS
I was on the bus when this line debuted, and my twitter was going mad - everyone was posting about this show! Dear Marc, love you to bits, but why do all the models look like they have been eaten by their outfits? PS. I think that model stole my grandpa sweater. Haha - No, I really did find this collection intriguing, especially the hem line. The lower heel, like in the Mulberry line, was really utilized in force, and done well I might add. Gentle neutrals and light pastels were also a major theme. Over all, the collection really alluded to another time, in addition to previous collections from the Marc Jacob fashion house. Completely unapologetic as usual, Marc is quoted as saying after the show "There's so much striving for newness now that newness feels less new."  Hey, there's nothing wrong with sentimentality for the past! 
DONNA KARAN
Wow black.  I think there were maybe three pieces in the whole line that weren't. I'm definitely not someone to chastise the designer on this however - I say keep it coming!  High collars = love.  Really, I wish more lines would incorporate this style.  It's been a favourite of mine for about a year now.  The one time I attempted to design something, although I haven't since, the piece had a fantastically high collar. And in Montreal last year, I was always propping up my pea coat collar when I wasn't wearing a pant or legging (so, like a dress or skirt etc.).  ANYWAY.  Like with Vera Wang's collection, I also loved the extended glove, deep neckline, cocoon coats, nearly opaque tight, ruffle detail, and dense material of this collection.  All in all, very nice!  
RODARTE
Very interesting show.  Apparently the sisters were inspired somewhat by sleepwalking and Mexicans.  Fascinating, albeit random themes.  I really liked the florals in particular because they were elegantly patterned and non-conventional.  I don't have much else to say about this show, just that the finale (when the entire event was cast into darkness and black lights shone - adding to the notion of the models sleepwalking) would have been neat to witness!
MULBERRY
I loved the hair. But that is about it. Perhaps the colours were a little too strong for my taste, or the accessories a little too plentiful (save for the looks I chose), but I didn't really like this collection. However, there were a few important messages that can be derived from this line. First of all, notice the purses. Natalie and I went into the city a couple days ago, and we were really looking for a nice sac. For now, the best ones are those that are not too small (from styles of the summer) or too large (from the previous winter), but somewhere in between.  The most amazing is the bucket bag in my opinion! Although I still despise the Sunshine Coast-esque 'under the arm' purses, the bags that hang a little lower under the arm are coming back in. You can see this quite obviously in the Mulberry line. Even the detail of how the model is holding them, was included to ease us back into it. The second thing to watch for is a smaller heel. Many of the collections from this week have been featuring a 2-3 inch heel instead of the regular 4-5 inch. Interesting. Again, I'm not too sure how I feel about this.  
VERA WANG
Hum.. I like it. I do. This season Vera Wang became somewhat of a minimalist (although I suppose the fur detailing, exaggerated shoulder fluff, and piled pearls don't really exemplify this), but you can see in previous collections that maximalism is more her style. This afternoon, when I first saw the tweets about the show, and a few Getty images on
thefashionspot,
I thought that I had  fallen in love, but now that I see the whole thing, I am a little less awestruck. Overall the looks didn't really have something that sparked my interest, and to be honest, I was a little bored.  Having said that, I
was
still quite impressed. Every look was sophisticated and clean, and every piece was feminine and chic.  Incredibly appropriate for New York. 
DEREK LAM
OMG AMAZING. I am so in love with that gray bucket bag! I am just amazed with this collection, especially the use of different materials and the integration of fabrics with tanned leather - yes! The western theme was also really interesting to see - although I didn't exactly jump for joy when I saw the fringe. It reminds me of uggs or nautical - it just won't die!
....last but CERTAINLY not least.
DSQUARED
Umm yup - the Caten brothers did a really outrageous show in Milan this season and had all their models bruised and splashed with blood - very cool clothes by the way. Go to Vogue.com for the full slideshow. HOWEVER, the best parts were the opening and close. I think Bill is something like 6'6 or 6'7 and he just towers over everyone else; looks so inhuman and angelic. LOVE.
|runway shots from style.com