[tamara]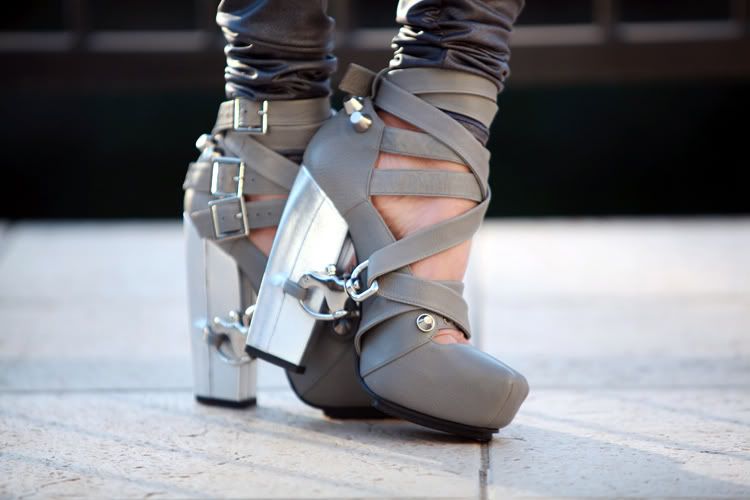 So Christmas is over, and I think it's about time I did another post! I had planned that this one would be about my latest DIY projects, but since I have been far too lazy to take photos of them I will just have to describe them.
I've been spending a lot of time working on an obsession recently - DIY projects. In the past I've altered a few pieces (most notably the oversized gray scarf that I transformed into a circle scarf last December when I couldn't find such a scarf in any shop [even in Montreal!]), but during the last few weeks, I've gone considerably further. To begin with, I made some leather thigh high boots from a vintage leather skirt, and I just need to procure some leather wrappings to complete them.
Here.
I've also adjusted this vintage bottle-green velvet dress that my mother had in her closet. Now it is a great deal shorter and the shoulders are quite bold. I plan to next take the excess material and make a velvet pouch bag - similar to the one from the SS10 Prada collection, the newest 'it' bag that has every blogger going crazy.
Natalie and I went thrift store shopping a day or so before Christmas and she and I both came home with a number of new pieces. She found a gorgeous oversized brown leather jacket, like this
one
, a burgundy hunter jacket with double-breasted buttons, a large knit grandfather sweater, and a high waist denim that she is going to cut into shorts. I bought a charcoal thick knit grandfather sweater, and this gorgeous neutral coloured peacoat/cape. So many additions to our closets since school ended! OH! Natalie was given a gorgeous camera for Christmas - FINALLY we can start taking quality photos. ;)
Right now I am making a new layout for the blog - it might even be up as early as tonight!!