[meryl]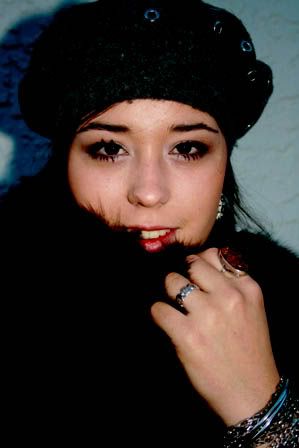 Hello
ad idem
readers!
So I suppose it is about time that I had my own post on here. For those who have been following this blog, you will already know about me. I am the third wheel to this dynamic duo, and I have been mentioned often in previous posts. If I were to describe my style I would say that I tend to dress a little more edgy than most. I love leather, lace, velvet, studs, and wool. My favourite pieces currently are: a rabbit fur collar, a charcoal coloured cashmere and Italian wool peacoat, black leather buckled boots, a gray eyelet studded beret, a black velvet vest with beaded detailing, and a leather biker vest. Favourite accessories include: Swarovski earrings, silver bangles and bracelets, oversized amber rings, and long chain necklaces.
I'm obsessed at the moment with finding a beautiful clog (like the ones seen in last season's Chloe line, or on
fashiontoast
), as well as making a pair of flared denim.
For the best items in my closet I go to a multitude of thrift stores, Aritzia, and of course, Zara.
check out my Tumblr:
watershock
or follow me on Twitter
here
.