[tamara]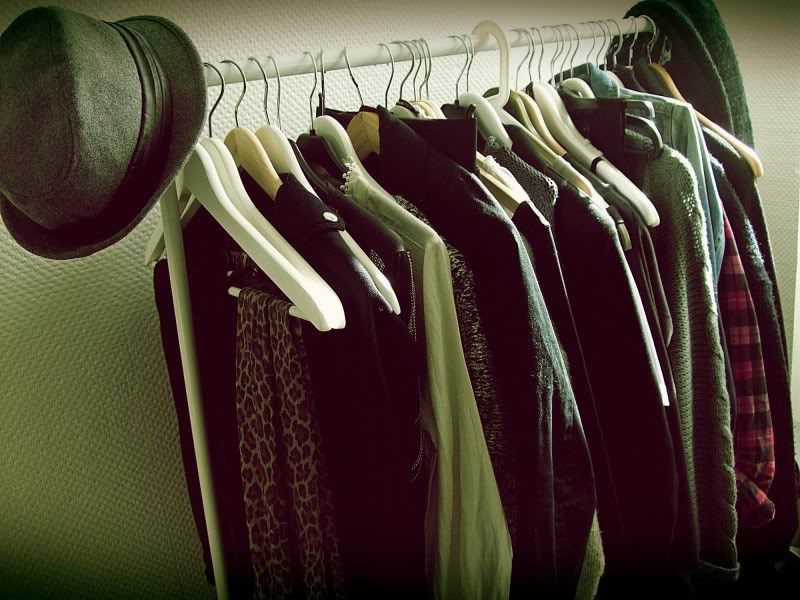 Here she and I sit again - propped up against the walls of my room on my massive bed, talking about all things fashion. We're doing two 'feature' posts tonight - instead of studying for finals - and mine is for all of you readers who follow ad idem for reasons beyond fashion. I've had a few friends come up to me in the last week and ask for advice on what to say to their own friends who need help making a new closet. Well, I thought that I might as well kill two birds with one stone - or, you know, another saying that means the same thing but doesn't contradict my vegetarianism. Most of you know well enough what you're doing - but for those who want our input, here are some guidelines:
1. Avoid Colours
When you are starting a new closet, and a whole new assortment of looks, one of the most important things is keeping each piece in sync with as many others as possible. One of the reasons Natalie and I avoid colours, besides our disdain for all things bright and resembling a crayon, is that darker shades go well together much more easily. Trust me, when you have several stores and many lines within each of those stores to pick through, you don't want to be thinking about which items you just bought and whether or not they will go together with what you're looking at right now.
2. For your staples, go to Jacob or American Apparel
Every closet needs several staple pieces. For each person these items are different. For me, they are a variety of leggings, sheer tights, plain v tees, and a few cardigans. For Natalie, they are denim, leggings, waffle-knit shirts, and apparel tees. Your own staple pieces will depend on your body type and what suits you. Unfortunately, I can't advise you much here. But I do suggest going to Jacob and American Apparel for the basics. It is important that you don't stop with the staples though - many people do. Mix it up a bit, wear a lot of jewelry or a strange hat - just do it!
3. Learn to love the thrift store
Some of you might laugh at this. Gross right? Yea, think again. Some of our best pieces have come from thrift or vintage stores, even the ones on the coast. My biggest regret right now is not buying this $400 rabbit fur coat that was up for $20. It was in
perfect
condition. Also, if you update your closet as much as Natalie and I do, and go to university at the same time, you really can't afford to buy the high-end pieces every time.
4. First timers, buy your quality items at fool-proof boutiques.
Because I'm assuming that you don't yet have the skill set required to find 'ahead' pieces in constantly 'behind' stores - there are a few places in which you can't go wrong. (By the way, almost every store in a mall is guaranteed to be 'behind' due to the manner and amount of time needed to design, manufacture and stock the clothes. Many times I've had to alter purchases of mine to keep them up with my standards) There are however, two exceptions to this rule. Aritzia and Zara. I know, most are thinking 'what?! Aritzia? everyone shops there already.' Yes, this is true. Unfortunately, most buy from the very worst lines that store has to offer: TNA, Rock&Republic, Seven Jeans, and most of the Talula line. One line that both Natalie and I have sworn by for two years is
Wilfred
. Nice cuts, design - everything. Zara is the same. Almost anything in that store I love - and as a bonus, Zara is very rarely behind.
5. Check out your parents' closet
Over half of Natalie's wardrobe, and a good chunk of mine has been supplied by our parents' old cast offs. Jewelry, your dad's old sweaters, old purses, men's watches etc. The best thing about fashion is that it is a circular progression. Everything that
was
, will be again. And who better to be a reflection of this progression than your parents? - the people who lived through it.
6. Blogs are coming into their own.
Not to boast our fellow bloggers too much, nor ourselves, but fashion blogs are everything right now. Magazines have to cater to a larger breadth of readers - many who are not very eager to try crazy new pieces. Therefore, we advise reading both magazines AND blogs. There are thousands of blogs out there, and we've even helped you out a bit by posting our favourites on the side of our page. Some of these are the most famous and respected fashion blogs out there - and
THIS
is a good place to find ideas. Also, LOOKBOOK.nu is another source of inspriration. Many of these girls and guys are le creme de la creme of fashion. Additionally, they are just like everyone else because most of them don't have the money to buy designer pieces. The biggest names on LOOKBOOK are also featured constantly in editorials, interviews, and fashion shows across the world.
last and definitely the most important of all though..
7. Be bold.
If you've never seen ANYONE wear something - chances are you should start. Just make sure that it hasn't
recently
gone out. There are so many things which I've worn and people have thought were absolutely insane - and then many months later, and EVERYONE is wearing them. One lovely example of this is when I was in my senior year of high school, and granted, I had just fallen in love with fashion, but I started wearing leggings as pants. I can't tell you the number of times my friends or other people commented on them, wondering
what the hell I was doing.
Now? You can't escape this look. Natalie and I love discussing the 'science', if you will, of trends. We stay up until the early hours of the morning just wracking our brains for new ideas; inspired or innovative. She and I both spend HOURS upon HOURS turning through fashion editorials, blog postings, and runway collection photos. Luckily this means less work for you because we share most of it on ad idem. Or you'll see us wearing it on the UVIC campus.
That's it for now. Hopefully you found something useful here to think about. I would write more, but honestly, I have a conference tomorrow at 8:30am and also, I can't give away
all
of our secrets. ;)